As outdoor dining will be permitted in Phase Two of New York State's reopening, a newly introduced legislation will allow restaurants to easily extend "al fresco" service to sidewalks and parking spaces throughout New York City.
By simplifying the process to obtain a temporary sidewalk cafe permit, the Open Restaurants initiative aims to prioritize flexibility to capitalize on outdoor dining season. Under the city's plan, restaurants will be asked to provide their own vertical barricades, planters, tables, and chairs.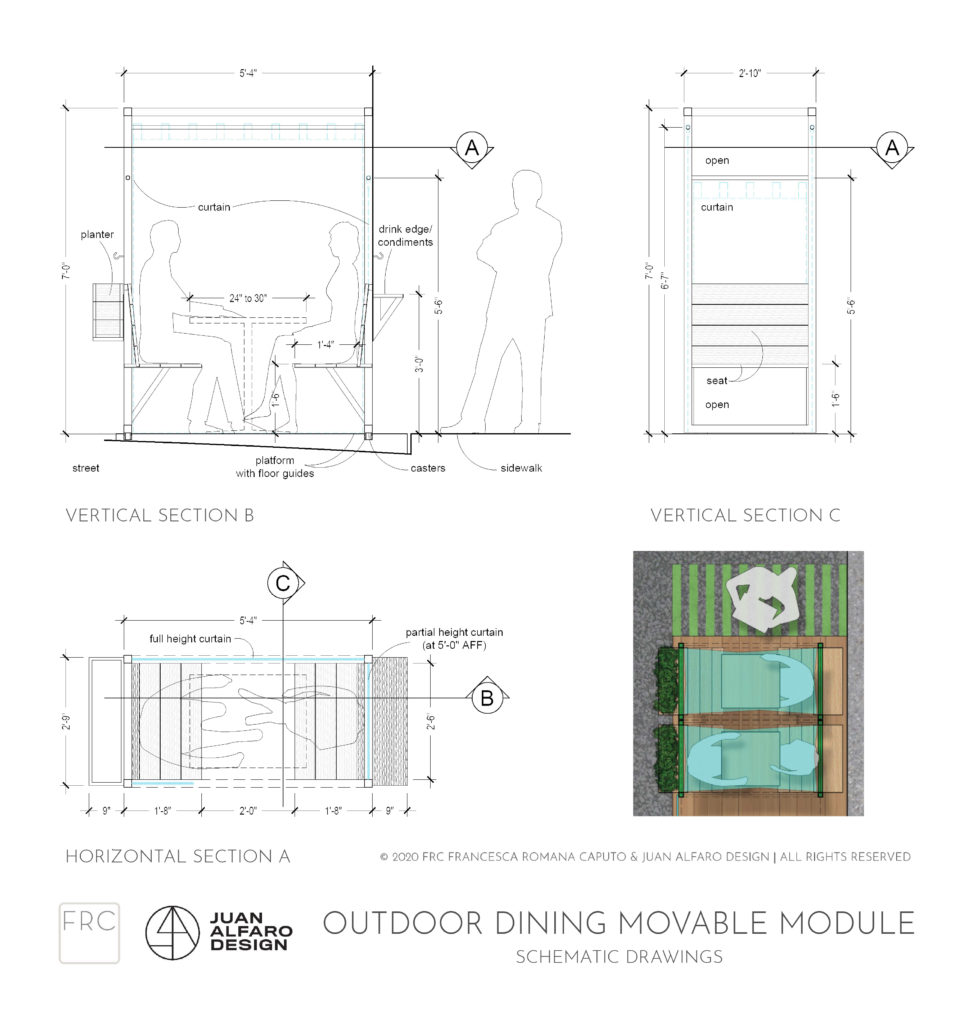 A brand new flexible solution for Sidewalk Cafes
In a creative collaboration, FRC and Juan Alfaro Design Inc. have teamed up to address restaurants' immediate needs for flexible, cost effective solutions. We have developed a modular dining system for curbside seating that maximizes the use of the space and seating capacity while improving the socially distanced dining experience.
The system, currently being prototyped, consists of connectable seating modules sliding on a floor platform installed at the roadbed alongside the curb, functioning as an extension of the sidewalk.
Each steel frame module has different detachable components. The base module includes two wooden seaters, one cantilever shelf—which can be used as a standing drink rail, or as a station for protective and sanitizing products—and a planter box.
Curtains on all sides provide privacy and shade from the sun while serving as physical barriers to allow for minimum distances between seating groups.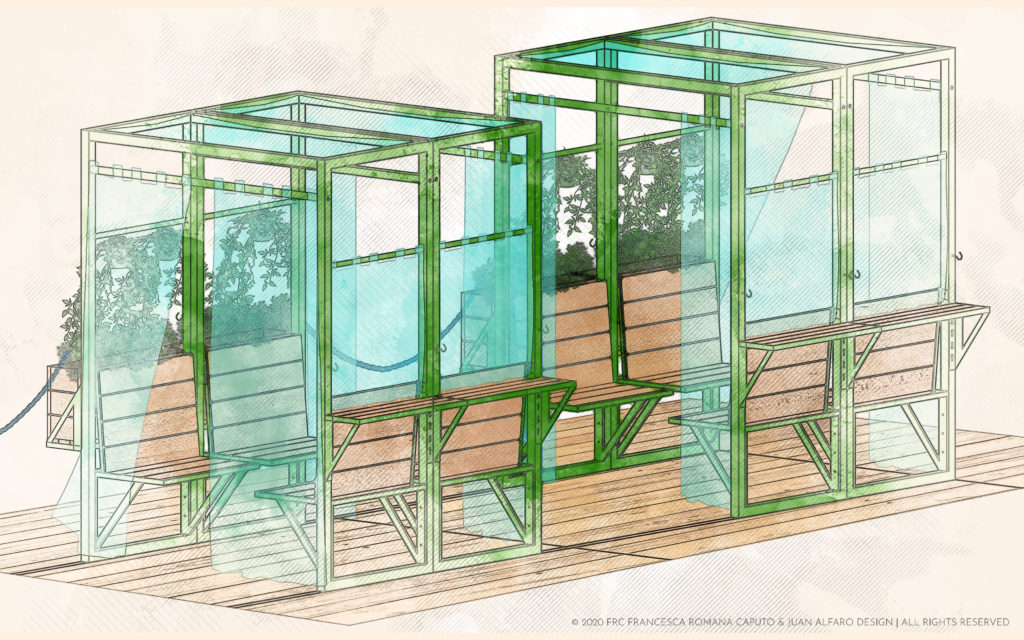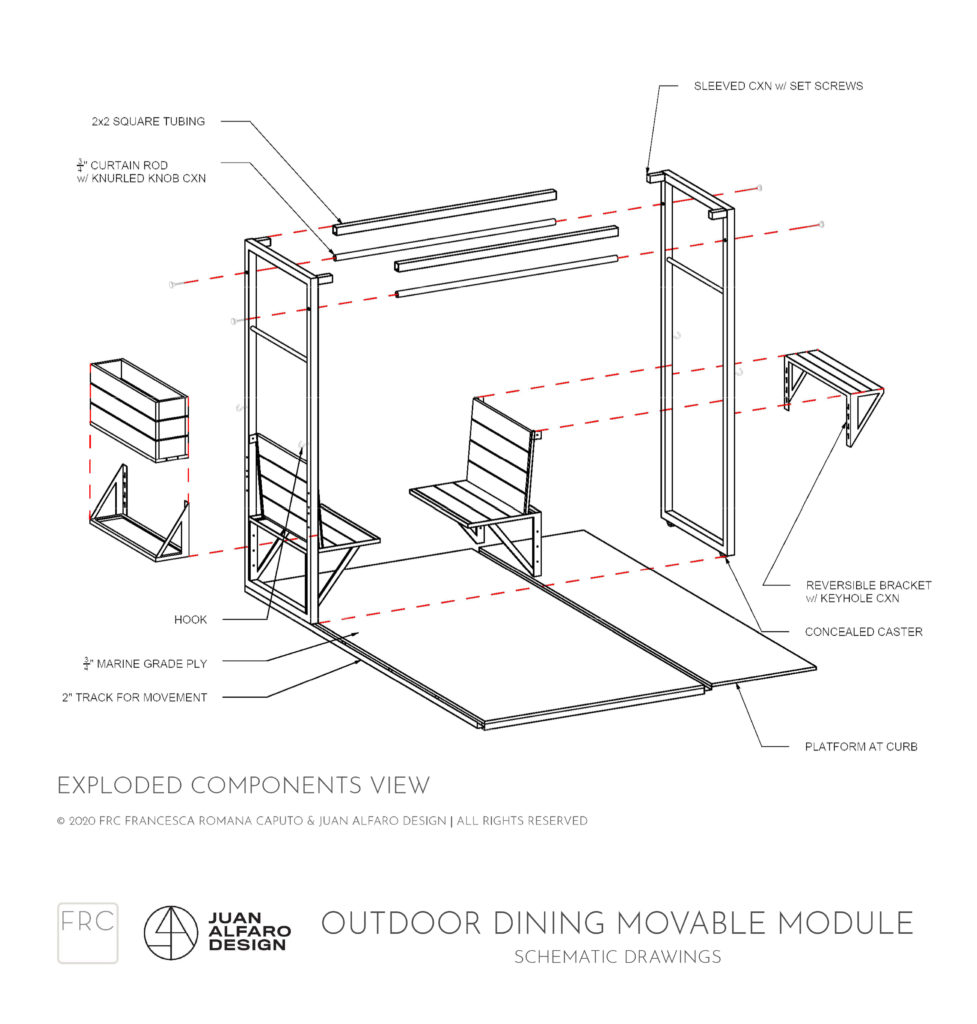 All parts are mechanically assembled, to facilitate installation as well as disassembly and storage. Customizations will also be available.
In addition to the social distancing requirements to keep minimum distances, or provide physical barriers between tables, the guidelines restaurants must comply with also include ensuring seating is accessible, bus stops or fire hydrants are not blocked, and seating is located away from intersections.
Our services will include consultations and case-by-case layout studies to accommodate the specific needs of each location, including solutions for restaurants on the same block wishing to combine efforts.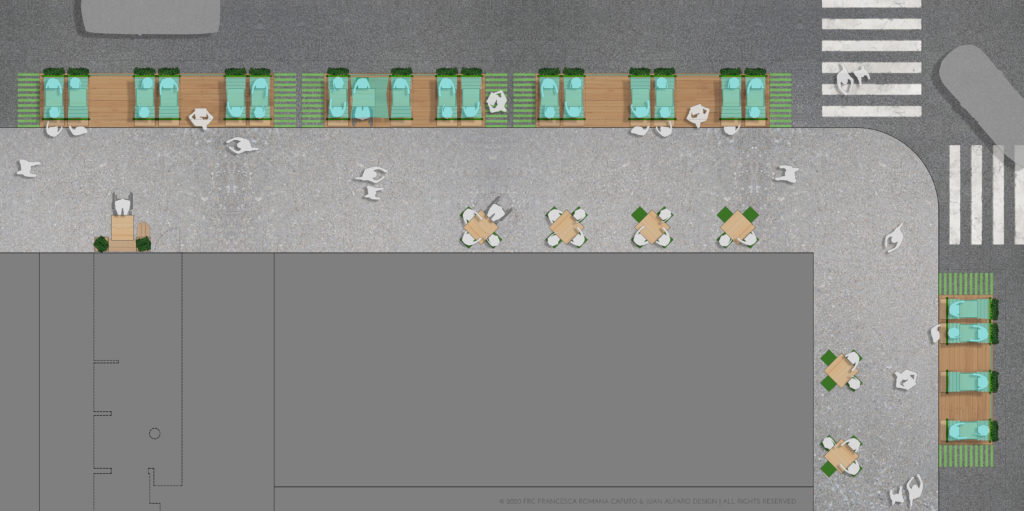 Meet the team
FRC is a boutique interior firm specializing in restaurants, hotels, destination resorts, and multifaceted commercial projects. The firm's approach is to seamlessly weaving together a client's vision, the genius loci, and the brand's culture into something entirely new. Owner and creative director Francesca Romana Caputo has been helping the hospitality and lifestyle industry dream big since 2004, and offers proven experience in all aspects of design, ranging from design concept and development to construction administration and management.
As a design fabrication firm, owner-operated Juan Alfaro Design Inc. bridges the gap from intention to execution through a refined fabrication design development and design assist process. From initial drawings and client meetings to final fabrication and installation, Juan Alfaro translates individual needs, desires, and aspirations into texturally sophisticated environments that exude precision and meticulous artistry. Through uncompromising fabrication and finishing standards, Juan Alfaro has nurtured a client base of world-renowned artists, designers, and architects.
Ready to imagine your sidewalk cafe?
We provide consultations, layout studies, customizations, and accessorizing options. For inquiries about our services, manufacturing, and installation contact us here.